Improving the Human-bike Interaction
Bike fitting is the process of making an athletes equipment match their needs, improving the health and performance outcomes that are central to an individual's cycling goals. At Adaptive HP, we use our qualifications in the areas of both Sports Science and Health Science to deliver bike fit services that balance performance requirements with an individual's physical condition.
The use of cutting-edge 3D motion analysis technology allows us to accurately quantify positional qualities and to provide consistent outcomes, in line with the positional requirements of an individual's cycling discipline. Our knowledge of the biomechanical demands of modern-day cycling and the nature of cycling injuries, informs the selection of ergonomic equipment to support the achievement of an individual's cycling goals.
Our multifaceted approach to position optimisation covers the clinical considerations, detailed biomechanical analysis and addressing product ergonomics. Integrating each component allows us to make informed decisions on your positional requirements, working towards improved health and performance outcomes for cyclists of all levels.
Cycling is a highly repetitive sport with distinctive biomechanical requirements. The repetitive nature of cycling invariably places considerable mechanical load on the human body, predisposing the athlete to a greater risk of injury. For cyclists of all levels and across all disciplines, pain and pathology are key motives for seeking position optimisation services.
Physical assessment techniques and clinical experience are the foundations of understanding the true nature of pain, pathology and predisposition to injury. What are the key areas of vulnerability? Our clinical experience reflects that reported in scientific literature, with musculoskeletal injuries to the lumbar spine, cervical spine and knee being the most prevalent.
We apply our background in Health Science and post-graduate certification in Mechanical Diagnosis and Therapy (MDT) to better understand the role that your physical condition has on your cycling experience.
In dynamic sporting applications, attention to detail is only as good as the ability to accurately capture and measure human movement. We use research-quality 3D motion capture and movement analysis technology to carry out detailed kinematic analysis of each athletes cycling position.
From baseline to final motion capture, position optimisation is guided by the analysis of joint angle and joint position data. These biomechanical analysis techniques allow us to accurately work toward achieving positional qualities that are reflective of an individual's cycling needs, favourable for both health and performance outcomes.
3D biomechanical analysis techniques are used to measure the movement of your body down to the finest detail. This technology if fundamental to the bike fit process and allows us to accurately define positional qualities, from baseline through to the final capture in your optimised position.
Component selection and setup is a vital aspect of improving the human-bike interaction. We work with saddle, pedal and cockpit manufacturers that place ergonomics at the forefront of product design, facilitating the achievement of an individual's positional requirements.
Product ergonomics is the key element of the position optimisation process that allows us to bridge the gap between health and performance outcomes. It is the appropriate selection of equipment that ensures performance doesn't come at a cost to comfort and long-term sustainability.
Product ergonomics is central to successfully dealing with musculoskeletal injuries and promoting the long-term sustainability of cycling. We use these same ergonomic concepts to enhance performance outcomes associated with your optimised setup.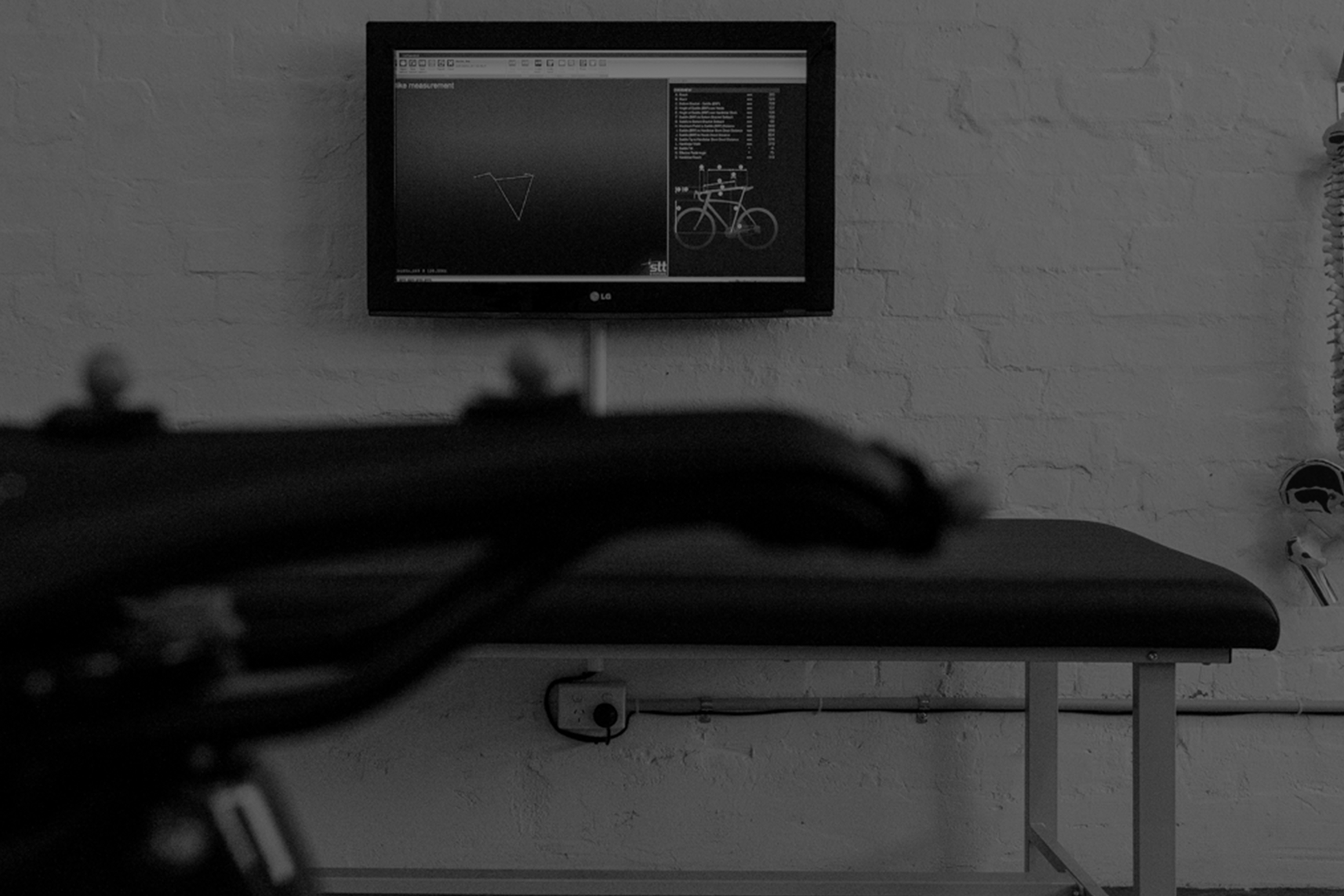 Bike measurement data is vital for making the most of position optimisation services. We provide accurate and translatable measurements that account for all relevant contact points, allowing for replication of fit coordinates onto other bikes, or when bike assembly/disassembly is required.
Motion capture and bike measurement data is provided in report format, detailing the kinematics and measurements relevant to an individual's cycling position. Where appropriate, we communicate fit measurement data with custom frame builders, taking the guess work out of going custom.
Translatable measurement data is fundamental to you getting the most out of your position optimisation service, now and into the future. Are you planning a custom build? This is the information your frame builder relies on.
Service Details
Lab-based position optimisation services are offered from Adaptive HP's consulting suite in Collingwood. Road position optimisation sessions are up to 3 hours in duration. For time trial position optimisation, an extra 60 minutes is typically required.
Changing your cycling equipment? Fit replication, fit follow-up and partial fit services are available to assist in the upkeep of a previously optimised position. Contact us for information specific to your bike fit needs.
Pricing
$429 complete road fit
$479 complete time trial fit